Polyvinyl Chloride or PVC is a thermoplastic material derived from common salt and fossil fuels. This pipe material has the longest track record of all plastic materials. Polyvinyl chloride (PVC) was discovered late in the nineteenth century. Scientists observing the newly created chemical gas, vinyl chloride, also discovered that when the gas was exposed to sunlight, it underwent a chemical reaction (now recognized as polymerization) resulting in an off-white solid material. But, the solid material was so difficult to work with that it was cast aside in favour of other materials. Years later in the 1920s, rubber scientist Waldo Semon was hired by the company BFGoodrich to develop a synthetic rubber to replace increasingly costly natural rubber. His experiments eventually produced polyvinyl chloride. Although product developers began to use PVC in a variety of ways – in shoe heels, golf balls, and raincoats, to name just a few – its application increased significantly during World War II. PVC turned out to be an excellent replacement for rubber insulation in wiring and was used extensively on U.S. military ships. After 1945, its peace-time usage exploded.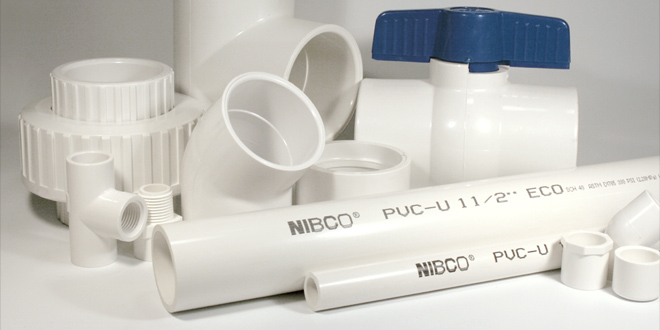 PVC piping is the most widely used plastic piping material. The first PVC pipes were made in the 1930's. During the 1950's, they were used to replace corroded metal pipes and thus bring fresh drinking water to a growing urban population. Pipe and fitting material made with PVC compounds meet the requirements of ASTM D-1784 standard, class 12454-b, ratified as type I, 1 class and EN 1452 (for PVC-U). It is used successfully for more than 50 years in the fields of chemical processing, industrial installations, cold water distribution, deionized water supply, chemical drainage systems, and irrigation systems. Further pressure and non-pressure applications in the field of sewers, soil and waste, gas (low pressure) and cable protection soon followed. The material's contribution to public health, hygiene and well-being has therefore been significant.
PVC-U is characterized as a material with high physical performances and is corrosion and chemical compounds resistant such as: acids, alkalis, highly saline substances and many others. It is not resistant to ketones, some chlorinated hydrocarbons and aromatic compounds. The maximum operating temperature for PVC-U is 60°C. Projected to withstand the pressure of 138 bar, it has the maximum long-term hydrostatic durability at 23°C compared with any other thermoplastic installation for plumbing, it is joined by gluing (PVC cement), by the so-called cold welding. PVC pipe have a long life expectancy , studies on PVC pipe made in Europe in the 1930's and been in continuous use suggest a very long useful life for these products of a hundred years or more, which will generally exceed the lifespan of the structures they are installed in. In several studies the long track record of PVC pipes has been investigated. Recent investigations at the German KRV and the Dutch TNO have confirmed that PVC water pressure pipes, when installed correctly have a useful life span of over 100 years.
PVC pipe products have very long useful lives, not much pipe is currently available for recycling as it is still in use. While current standards do not generally allow for the practice of recycling used pipes into new certified pipes. PVC pipe producers can recycle nearly all production scrap in-house. Since PVC is a thermoplastic PVC pipe can simply be reground, pulverized and returned to the extrusion process to make new pipe.
Based on the standard PVC material, three remaining variants are in use.
A high performance variant called CPVC is used specifically for indoor applications in hot water supply.
Another variant called OPVC represents an important landmark in the history of plastic pipe technology. This molecular-oriented bi-axial high performance version combines very high strength with extra impact resistance. A ductile variant is the MPVC, PVC modified with acrylics or chlorinated PE. This very ductile material with high fracture resistance is used in high demanding applications where resistance against cracking and stress corrosion is important.

PVC piping systems are:
Environmentally sound.
Provide long service life.
Easy to install and handle.
Corrosion resistant.
Cost effective.
APPLICATIONS:
Cold drinking water installations (plumbing)
Air conditioning installations (condense drainage).
Industrial installations.
Transport of various chemical fluids.
Usage temperature:
Permanent 50°C
Maximum 60°C (malfunction temperature)
The working pressure is dependent on temperature