PROTIVPOŽARNA ZAŠTITA
Delovanje požara zavisi od mnogobrojnih parametara. Požar predstavlja nekontrolisano sagorevanje kojim se ugrožavaju kako ljudski životi tako i životna sredina i materijalna dobra. Kako bi se smanjio faktor rizika od požara, svakako treba preduzeti sve potrebne mere koje podrazumeva protivpožarna zaštita. Protivpožarna zaštita je zapravo skup organizacionih i tehničkih mera namenjenih preventivnoj zaštiti i gašenju sa ciljem sprečavanja nastanka i širenja požara.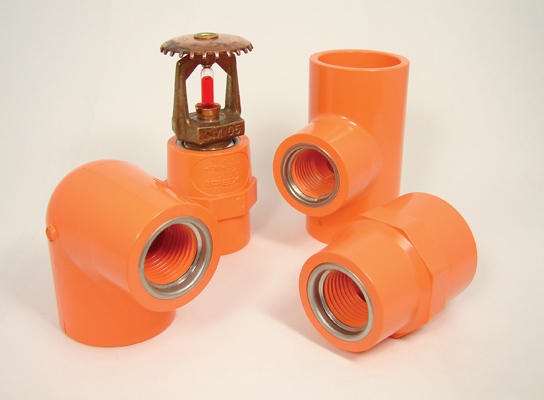 Najpouzdaniji način za efikasnu protivpožarnu zaštitu predstavljaju sprinkler sistemi. Sprinkler sistemi su automatski sistemi za gašenje požara. Aktiviraju se na određenoj temperaturi tj. pri pojavi požara. Pri aktivaciji se otvara sprinkler mlaznica i počinje automatsko gašenje. Sprinkler sistemi imaju prednost jer se deluje na samom mestu izbijanja požara sa što manjom količinom vode, te se na taj način smanjuje šteta od prskanja vodom. Razlikujemo mokre i suve sprinkler sisteme:
Mokri sprinkler sistemi:
– su brži i manje zahtevni. S obzirom da su koncipirani na cevima pod pritiskom koje su konstantno pune vode, ne mogu se primenjivati u prostorijama u kojima je moguće mržnjenje ili ključanje vode.
Suvi sprinkler sistemi:
– se koriste u uslovima gde postoji rizik od mraza. Cevi su pune komprimovanog vazduha i kad je van funkcije ventil je zatvoren. Pri aktiviranju, ventil se otvara, vazduh se gubi i voda izlazi kroz cevi.
Sprinkler sistemi se sastoje iz osnovnih elemenata koje čine sprinkler mlaznice , alarmni ventili i cevi.
U složenim sistemima protivpožarne zašite koja štiti živote i imovinu, bitno je da pravilno funkcionišu sve komponente.
PROTIVPOŽARNA ZAŠTITA/PROTIVPOŽARNI SISTEMI – CPVC BlazeMaster
Kad je u pitanju protivpožarna zaštita, potreban vam je cevni sistem na koji možete da se oslonite. CPVC cevi i fitinzi koje vam predstavljamo dizajnirani su specijalno za protivpožarne sisteme i zasnovani su na više od 40 godina potvrđenog iskustva. Ovaj sistem uzdiže protivpožarne sisteme na nivo superiornih karakteristika koje prevazilaze vaša očekivanja, te protivpožarna zaštita sa ovim sistemom svakako dobija na kvalitetu. Ovaj protivpožarni sistem je najnapredniji postojeći i odobreni sistem plastičnih cevi dostupan na sadašnjem tržištu. Preventivna protivpožarna zaštita zahteva pouzdan, proveren i siguran sistem a CPVC sistem ispunjava sve uslove i sama činjenica da se koristi u više od 60 zemalja sveta govori o njegovom kvalitetu. Metalne cevi se ne mogu porediti sa njima. CPVC sistemi imaju mnogo više prednosti u odnosu na metalne sisteme, a svi drugi sistemi su zastareli u odnosu na njih.
Benefits of CPVC Blaze Master
Pay attention to the following facts:
NSF certificate, safe for potable water, according to all standards.
Peeling and corrosion are eliminated even in environments where greater amount of salt in the air is present.
Natural resistance to corrosion caused by microbiological influences (Microbiologically Influenced Corrosion).
Superior characteristics of the flow enable better hydraulic solution in relation to metal systems.
Easy assembly at the field, incomparable flexibility, small weight, easy installation.
Muffled vibrations.
High aesthetic qualities of assembly – hard pipes.
Minimum or no investment in tools (no special tools) leads to great savings.
Minimum duration of 50 years, with safety factor two.
Quality Assurance Program guarantees consistency and reliability.
Patented CPVC formula, strict control of raw materials and manufacturer of pipes and fittings.
Contractors:
Costs savings (no special assembly tools necessary).
Improved durability even in low temperatures (specially formulated and patented formula).
Less disturbance /conflicts/ with other works (work is quick and easy even when surrounded by other contractors).
Small weight (no need for special equipment for pipe rearrangement within the area).
Investors:
Low costs (assembly is cheaper and the price is more stable in relation to metal systems).
Optimal dimensions system (smooth interior, better hydraulic properties, it is possible to reduce the diameter of the fitted pipes, decrease in price of material).
Architects and engineers:
Fully tested (the system has been fully tested by UL, FM, UL-C, LPCB and VdS. The system was exposed to flame which reached the temperature higher than 760°C and was tested twice at the constant maximum working pressure of 22 bars for more than a year without any sign of weakness or leakage).
Freedom in designing (small weight and easy assembly means that the system is ideal for those hard to access locations and for modification of the assembly, where flexibility, light weight of the material, easy assembly without the tools, allows for a quick, quiet and clean assembly).
Relevant authorities:
Fully tested and approved (the system has been approved according to UL for NFPA 13, 13D, 13R, approved according to FM, approved according to LPCB, approved according to VdS and by all relevant institutions).
Proven characteristics (the system has a proven reliability of characteristics from 1984. Quality Assurance Program, unsurpassable in industry, guarantees reliability in the future as well).
Approved for more fire protection assemblies than any other non-metal system.
Simply said, this system presents a new standard in fire protection assemblies